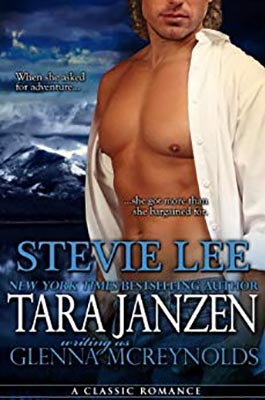 Stevie Lee
E-Book Classic Romance
ASIN: B007GJJ892
BN ID: 2940013909045
March 2012
HE WAS BORN TO ANSWER THE CALL OF THE WILD...
Halsey Morgan has blazed a trail of adventure from the Himalayas to the Amazon, but nothing he's seen in the whole wide world has prepared him for Colorado tavern owner Stevie Lee.  Dangerous curves packed inside a pair of tight jeans and a "Dynamite" T-shirt, the woman has been counting on him staying shipwrecked and lost in the South Pacific – permanently – so she can buy his cabin for back taxes.  He doesn't hold it against her, not when all he wants is to hold onto her. 
WHEN SHE ASKED FOR ADVENTURE, SHE GOT MORE THAN SHE BARGAINED FOR...
Stevie only wants one thing – to get out from under the damn Trail's End bar before it sinks her.  There's a whole world out there somewhere beyond the boundaries of her small mountain town, and she's determined to explore it.  All she needs is Halsey Morgan's cabin and the money she'll get selling it.  Then the lost adventurer turns up alive, walking out of a late spring blizzard and into the Trail's End, a sun god with midnight smiles and indigo blue eyes – ruining her plans and setting her senses on fire with the intensity of his desire.  She never knew love could be so hot, or that a man could strip her senseless with tenderness and passion.  But is the risk of loving him and losing him more than she can bear?  Or can Halsey convince her she can have it all, if she'll only follow her heart and her dreams...straight into his arms.   
STEVIE LEE originally published by Bantam Loveswept 1989