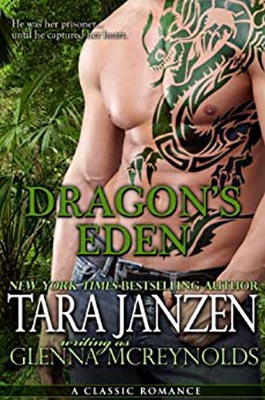 Dragon's Eden
E-Book Classic Romance
ASIN: B007GJJ892
BN ID: 2940013909045
March 2012
A BOUNTY HUNTER LEFT FOR DEAD
Jackson Daniels is a prisoner, trapped on a mist-filled island with the world's most exotic jailor – a silver-eyed angel straight out of his deepest, most sensual fantasies.  Hunted by pirates, his life forfeit on half the globe, he fears his truest danger lies in the alluring passion and tantalizing innocence of Sugar Caine.
HE WAS HER PRISONER IN PARADISE
Keep him safe – Sugar's orders are clear, but how can she keep herself safe from the fierce, dragon-marked warrior when his every touch fills her with longing and his every kiss creates a fiery need inside her?  Jackson is the perfect answer to her lonely exile, but is the bounty hunter more trouble than she can handle?  Or is he simply more dangerously sensual than she can resist?  When the island is invaded by pirates set on destroying them both, only the love they've found will be enough to save them!
DRAGON'S EDEN originally published by Bantam Loveswept 1995