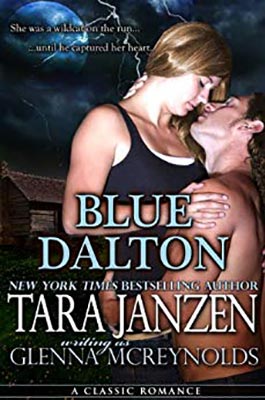 Blue Dalton
E-Book Classic Romance
April 2012
SHE'S A WILDCAT ON THE RUN...
And Walker Evans is just the man to catch her, stalking Blue Dalton through a storm-filled night in the Colorado high country.  The woman is armed and dangerous, wanted by the law, and after a treasure that belongs to him – Lacey's Lode, a cache of priceless silver and turquoise jewelry hidden in the mountains.
UNTIL HE CAPTURES HER HEART.
Blue shot a man in self-defense and outran the local sheriff, but there's no escaping the hunter they've put on her trail, and there's no protecting herself from the heated passion of Walker's searing kisses and tender touch.  With the bonds of desire ensnaring them both, the rugged tracker quickly realizes the untamed wildcat is the woman of his dreams – strong enough to hold her own, and sweet enough to melt in his arms.  But can he convince Blue her quest for Lacey's Lode pales next to the true treasure of their love?
BLUE DALTON originally published by Bantam Loveswept 1990.