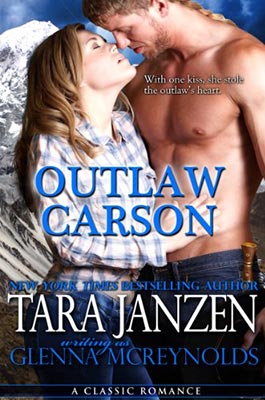 Outlaw Carson
E-Book Classic Romance
ASIN: B00767WC1U
BN ID: 2940014114486 
February 2012
WARRIOR, OUTLAW, MYSTIC... 

Kit Carson is an elusive legend in the world of archaeology, a renegade outside the bounds of respectability and academia. But when he shows up at Professor Kristine Richards's house with seven trunks of stolen Tibetan antiquities, instead of sending him on his way, she finds herself trembling beneath the mysterious gaze of the charismatic barbarian. 

RAVISHED BY A RENEGADE...

With the knowing heat of his touch, Kit awakens her desire, turning the prim professor into a wanton - and with only her kiss, the violet-eyed enchantress steals the outlaw's heart. But when a savage warlord comes from halfway around the world and kidnaps her, she only has one hope of survival. Can Kit win the race against time and save the woman who has become his destiny?
OUTLAW CARSON originally published by Bantam Loveswept 1991
K.I.S.S Award Winner
RITA nominee