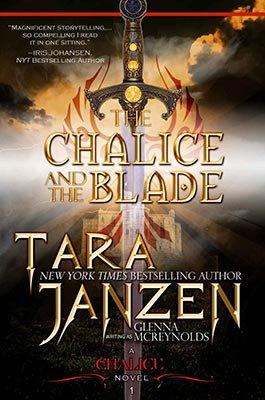 The Chalice and the Blade
Chalice Triology Book #1
August 2012
One woman holds the key to victory in the first clash of war.  Ceridwen, a lost priestess of the old religion, escapes the secluded abbey of her youth and her unholy betrothal to an evil lord, only to be led by fate and sacred prophesy into the castle tower of a sorcerer feared throughout Wales.  
Magician, trickster, and a warrior of uncommon skill and deadly grace, Dain Lavrans survived the Lionheart's Crusade and his captivity in the Holy Land to become the mage of Wydehaw Castle.  But despite all he's learned of magic and medicine, he does not behold true enchantment until the mysterious Ceridwen is given into his keeping.  Passion and innocence has never woven a more binding spell than in the maid, nor has power and fierceness ever combined in a less likely vessel. 
From the wild tribes of the forest, to the March lords of Wales, to the defrocked priests from the Isle of Saints, there are many who seek the maiden, all meaning to wrest her power, her legacy, and the promise of immortality for themselves. 
But while politics, passion, and greed seethe across the land, in a labyrinth of caves below a fortress in the north, the world's most ancient enemy is stirring to life.
"Magnificent storytelling, complex flesh-and-blood characters...so compelling, I read it in one sitting." Iris Johansen, NYT Bestselling Author
"If you love Outlander and Game of Thrones, don't miss Tara Janzen's epic adventure, THE CHALICE AND THE BLADE...brilliant, breathtaking, and blatantly sensual." Cindy Gerard, NYT Bestselling Author