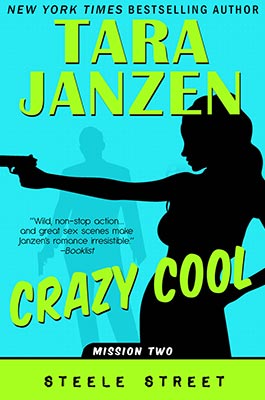 Crazy Cool
Steele Street, Book 2
ISBN: 978-0553586114
October 2005
SHE'S SIZZLING HOT.
HE'S ICY COOL...
He called her Bad Luck Dekker, a gorgeous socialite who trailed trouble in her wake.  Christian Hawkins should know.  Thirteen years ago he saved Kat Dekker's life – only to spend two years in jail for a crime he didn't commit.  Now it's déjà vu all over again when he rescues Kat from an explosion that rips through a Denver art auction.  This time Christian – now an operative with an elite U.S. task force – plans to keep her close until he figures out why somebody wants to kill her.  That is, if he can keep his cool around this sizzling-hot lady...
THEY'RE FIRE AND ICE, AND CRAZY IN LOVE.
The daughter of a senator, Kat hasn't forgotten the hot summer nights of passion in Christian's arms before everything went wrong.  Now, as the bullets start flying, the sexy, self-appointed bodyguard is back in her life in a major way.  Especially when Christian kidnaps her and they go roaring into the night in his brute-powered muscle car.  But staying out of danger is tough for two people who are this hot for each other, a little bit crazy, and a whole lot in love...
Kat: Disease by Matchbox Twenty (oh, baby, did this one fit!)
Hawkins: Kryptonite by 3 Doors Down (what else!)
4 ½ stars TOP PICK from Romantic Times
"Wild nonstop action, an interesting subplot, a tormented-but-honorable and brilliant bad boy and a tough girl, and great sex scenes make Janzen's…romance irresistible."  Booklist
Inside Front Cover : Crazy Cool
"Kat," he whispered against her lips, trying not to move too much for fear of what he might do, trying to extricate himself from her sweet grip, trying to find his brains, which he'd probably left in Roxanne, or maybe back at the Botanic Gardens. "Katya, honey. We have to stop."
Hell, they should never have started. Not this, with the two of them backed up against the elevator wall, with her clothes going up and his coming off. It was crazy. His shirt was only half on, his pants unzipped, and he didn't have a clue how she'd worked so fast.
"No," she moaned. "It's been so long, and no one has ever..." Her mouth slid over his, her tongue getting him wet, her teeth taking a gentle nip. "No one like you."
He didn't need to know that - honestly.
Hawkins leaned on the fifth floor button and felt the old elevator restart its ascent. When it had changed direction and gone back down to the gallery, he didn't have a clue. Probably somewhere between when she'd unbuttoned his last button and he'd completely lost his mind.