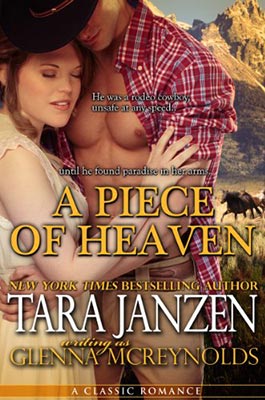 A Piece of Heaven
E-Book Classic Romance
ASIN: B00794BS2E
BN ID: 2940013915893
February 2012
HE WAS A RODEO COWBOY, UNSAFE AT ANY SPEED...
Travis Cayou landed in Laramie, Wyoming hurting everywhere, bad in the places he hadn't broken, and worse in the places he had – but he was home, and that was the only thing that counted.  He'd been born and raised on the Cayou Land and Cattle Company, and he was done running from his memories and the bad blood between him and his brother.  He knew he'd have a fight on his hands, and he was ready.  Ready for everything except the ranch's gorgeous new foreman, a beauty with untamed ebony hair and aquamarine eyes.
UNTIL HE FOUND PARADISE IN HER ARMS.
Callie Michael knew Travis was a good-for-nothing rodeo cowboy – but even busted up, broke down, saddlesore, and road weary, six foot of nothing had never looked so good.  From under the brim of his black Stetson, his smile made the kind of promises most women dreamed about and most men couldn't keep, but Callie knows cowboys, and she doesn't expect Travis to stick around long enough to be anything but trouble.  The cowboy knows different, but can Travis convince her he's home for good – and that he'll stop at nothing to claim Callie for his own, to have and to hold her forever...
PIECE OF HEAVEN originally published by Bantam Loveswept 1992