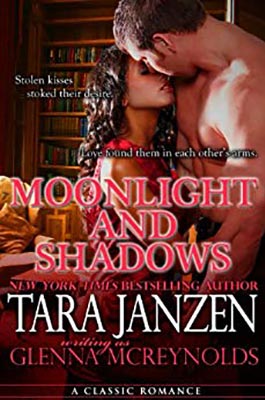 Moonlight and Shadow
E-Book Classic Romance
ASIN: B007LVR7JI
BN ID: 2940014330183 
March 2012
SHE HAS RULES HE'S PLANNING TO BREAK...
HE HAS PLANS SHE CAN'T RESIST.
On a moonlit night filled with magic, Jack Hudson does the craziest thing – he steals a kiss off his newest client, an enchanting young widow with wild ebony curls and an irresistible, fey beauty.  He's got no business kissing Lila Singer, and she's got no business melting in his arms, but suddenly, two people with nothing in common can't get enough of each other.
STOLEN KISSES STOKED THEIR DESIRE.
Sinfully gorgeous men are at the top of Lila's "Do Not Touch" list, but she's never been touched the way Jack touches her – with strength and a knowing intimacy that incites her senses and fills her with pleasure, making her long for more.
LOVE FOUND THEM IN EACH OTHER'S ARMS.
Lila wants an office in her prairie home.  Jack's the guy who can build it – but can they keep their hands off each other?  No way.  All bets are off, as one mesmerizing stolen kiss after another begins tangling them both in the sensual heat of a seduction neither of them can resist.
MOONLIGHT AND SHADOWS originally published by Bantam Loveswept 1991