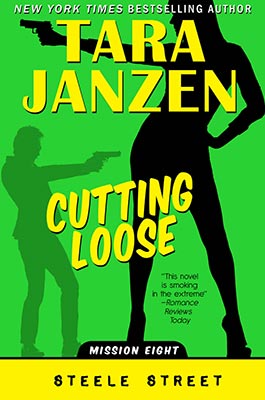 Cutting Loose
Steele Street, Book 8
ISBN: 978-0440243854
December 2007
A SECRET AGENT IN SO DEEP, NOBODY CAN FIND HIM.
CIA operative Zachary Prade made his name taking out world threats.  But now he's tracking a very different kind of danger, and her name is Lily Robbins. 
SHE'S GOT SOMETHING EVERYBODY WANTS.
Lily holds the key to a valuable encoded file that's about to fall into the wrong hands.  All Zach has to do is retrieve the key and forget the rain-soaked beauty who came to his Central American plantation seeking shelter from more than the weather.
A MISSION SO HOT, IT'S OFF THE CHARTS.
Lily knows him as Alejandro Campos, the seductive drug lord who saved her life in El Salvador.  Now, back in the U.S., hunted by spooks and assassins, Lily has to trust Campos again.  Except his name isn't Campos, and he's arousing a passion so hot, it's criminal.  That is, if they can survive long enough to enjoy it...
Zach: Never Tear Us Apart by INXS
Lily: Lovefool by Cardigans
4 ½ stars from Romantic Times
"Tara Janzen once again takes readers on a nonstop thrill ride...Do not miss CUTTING LOOSE!" Romance Reviews Today
"This novel is smoking in the extreme!" Romantic Times
Chapter Two
Friday, 10:00 p.m. - Denver, Colorado
Some things a guy never forgot.
The first woman he'd ever loved. He'd been seventeen.
The first man he'd ever killed. He'd been nineteen.
And how to break into the first place he'd ever called home.
....Zach stood in the alley and looked up at the thirteen stories of steel reinforced brick at 738 Steele Street. The old building in the heart of lower downtown's historical district, an area affectionately referred to as LoDo, had started life as a car dealership back in the '40s. A few economic booms and busts, and half a dozen reincarnations had passed before it had become the most notorious chop shop in a tri-state area, run by a fifteen-year-old mastermind with a handpicked crew of boys who'd made an art form out of juvenile delinquency and grand theft auto.
She was in there, Charlotte, a 1968 Shelby Mustang Cobra GT500KR, the first car he'd ever rebuilt from the frame up – Charlotte the Harlot in Candyapple Red with white panel stripes on the lower body and white Le Mans stripes going up over the hood and down the deck. She'd done 0 to 60 mph in 5.5 seconds for him every day of the week, taking the quarter mile in 13.8, and on some days, she'd done better than that. One cool autumn night, a lifetime ago, he and Dylan had clocked her at an even 5 seconds and a 12.9 quarter mile out on the Doubles, a strip of abandoned highway east of Denver. Hawkins had been in and out of prison by then, and the other chop-shop boys had gone their own ways, most of the core group going into the military, a few of the stringers melting back into the streets, and him disappearing off the face of the earth.
He'd been good at it, disappearing. A couple of times, he'd been too damn good at it, getting in so deep his handlers had lost track of him. Those had been some strange years – the Asian Years, he called them, the four years in Laos and Cambodia, the months spent going in and out of Thailand and Indonesia before he'd been reassigned to the Panama country office and ended up in El Salvador.
He slid his gaze down the night-darkened alley, until it landed on an iron door with a grid pattern of bolts across its face. Seven thirty eight – the numbers were painted on the brick above a stone lintel. A large metal sign with the word WEATHERPROOF had been secured to the wall next to the door.
A grin curved his mouth. Weatherproof. Geezus. He'd forgotten about the chop-shop boys' weatherproof theory of sex. Hell, they all should have forgotten it by now, but there was the damn sign, still in place.
And there was the door.
And three blocks to the north, there was an iron grate in the street.
He took a long draw off his cigarette before dropping it onto the pavement and grinding it out with his boot. The streets were quiet – for now. Once he fired Charlotte up, he'd have about two and a half minutes to pull this damn thing off and get out, or he was going to have a helluva lot of explaining to do. Days of it. Weeks of it. Except to Dylan.
Dylan would understand how it all had come down, about why he'd left the way he had, without a word. Quinn wouldn't. Creed would understand why he'd left, but not why he'd stayed away so long. And Hawkins, fuck, he really didn't want to have to explain himself to Superman.
He'd kept up with them, Special Defense Force, SDF, a group of black ops warriors birthed in the shadows of the Pentagon and the Potomac. The team skirted the edge of the Department of Defense, the State Department, and sometimes Posse Comitatus, the act forbidding the use of federal troops inside the United States. But their roots were here, in the grease and iron of Steele Street. Lost boys, every damn one of them, and he'd been the most lost of all.
Dylan knew. Dylan knew everything, had known it from the start and still taken him on, made him one of finest car thieves ever to survive on the streets of the Mile High City.
Charlotte running fifteens. Needs a mechanic. The letter he'd been handed in Langley hadn't had a signature. It hadn't needed one, or any more of an explanation. Six words had said it all.
A mechanic. Fuck. Another quick grin curved his mouth.
He owed Dylan Hart, and later, after he finished the Lily Robbins deal, he'd come back. At Steele Street, he could put Charlotte back on twelve-seconds-plus-change quarter miles.
Or else he'd take the Mustang and keep going, the way he always kept going, away. The eight years in El Salvador were the longest he'd ever spent anywhere, but he'd been there as Alejandro Campos, not himself, and Campos didn't have a history before his arrival in Central America. Zach Prade did, in spades, and there was no hiding from it here, not at Steele Street, not with Dylan, and probably not with Superman either.
Hell. He'd come for Charlotte, not to get his life back. Not to pay overdue debts, but he did have one stop he had to make, one person up on Seventeenth Avenue he had to see before he left Denver.
He raised his left hand and touched the side of his face, the gesture almost unconscious, but not quite. The narrow line of his scar ran from above his temple down to his jaw, and being back in Denver made it impossible to be unconscious of it, of how he'd gotten it, or of the man who'd put him back together.
Yeah, he had some debts in Denver.
Lowering his hand, he lifted his gaze and followed the lines of Steele Street's open freight elevator where it crawled up the side of the building. All girders and cables, steel plate and ironwork, the whole of it looked more like an upended suspension bridge bolted into the brick than anything else – bolted deep, gothic and sweeping, with a garage door opening onto it at every level.
He'd left Charlotte on the ground floor, pulled her in one long ago summer night and said goodbye to everything he'd known. Patriotism hadn't exactly been his motivation, and even from the start, he'd been pretty damn cynical about making a difference in the world.
But the challenge – oh, yeah, that had grabbed him hard. Could a nameless kid from the American heartland survive in the farthest flung reaches of the world as an agent of his government? Could a street rat from Denver take his skills into the underbelly of the world and come out in one piece, time and time again?
The answer was a resounding yes. He'd not only survived, he'd thrived, and sometimes he wondered what that said about him.
Not tonight, though. Tonight all it said was that he was going to get his car, and then he was driving to Albuquerque, New Mexico and taking a small, macramé bracelet from a sweet-faced schoolteacher who, if he did his job right, and he always did, would never have a clue how close she'd come to the edge of his world.