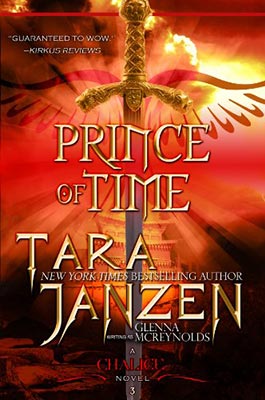 Prince of Time
Chalice Triology Book #3
August 2012
The time is the Sixth Millennium of the Trelawney Rebellion, thousands of years after the end of The Fifth Age of Men, and all but one of the Seven Books of Lore have been secured in a desert fortress hidden in the ancient ruins of Wydehaw Castle.
In the mountains of the Middle Kingdom, Morgan ab Kynan, a thief of unsurpassed skill, steals a monastery's sacred relic, setting the wheels of fate into motion. For 10,000 years the priestesses of Claerwen have awaited a hero, and none more so than Avallyn Le Severn, whose destiny and doom are deeply entwined with the foretold Prince of Time. She's expecting a sainted warrior. What she gets is Morgan, a mercenary with a fondness for vice-filled dens and off-world wine. But she's out of choices and out of time, and only one man can take her back into the past to save a twelfth-century mage who holds the last Book of Lore – the charismatic thief marked with the scars of a time-rider.
For 10,000 years, Morgan fell through the Gates of Time, leaving everything he knew and everyone he loved far behind him in the ancient past. But the past has not left him. Earth has been ravaged by centuries of war, and its last chance for salvation now rests on the desperate and dangerous journey he and Avallyn must make.
Sought across the vast reaches of time and space by a ruthless villain known as the Warmonger, only Avallyn can reunite the Books of Lore and keep a dark and ancient enemy from destroying the world – and only by conquering his deepest fears and darkest memories can Morgan fulfill his destiny to take her back through time.
"GUARANTEED TO WOW .... The pace is breathtaking…with dazzlingly sensual scenes." Kirkus Reviews
"[In] the tradition of Anne McCaffrey…a vivid tale for readers who seek the magic of fantasy, the tech edge of sci-fi and the thrilling jolt of true love." Publisher's Weekly