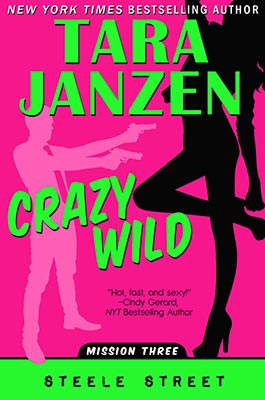 Crazy Wild
Steele Street, Book 3
ISBN: 978-0440242604
January 2006
HE'S THE DEFENSE DEPARTMENT'S BEST-KEPT SECRET.
It's a long way from the jungles of Colombia to a Colorado library, where Special Defense Forces operative Creed Rivera is staking out one of the world's most dangerous women.
SHE'S A LETHAL BLONDE WITH A BOMB.
With her prim librarian looks, Cordelia "Cody" Stark doesn't look like a nuclear arms broker.  But nabbing her is Creed's latest mission – until a trio of thugs shows up and he's suddenly forced to play hero...
TOGETHER THEY'RE THE UNLIKELIEST TEAM EVER TO SAVE THE FREE WORLD...
Armed with secrets that could ignite a global inferno, Cody was already running out of places to hide.  And now a hotshot government agent has blown her cover by throwing himself between her and certain death.  Trusting the hero who just saved her life is not an option.  Resisting him is something else entirely.  And when bullets start to fly, a man and a woman running out of time are gearing up for the wildest adventure of their lives...
Cody: Adrenaline by Gavin Rossdale and Bush (the girl was so on the run, and this song kept her moving!)
Creed: The Road I'm On by 3 Doors Down (here's another song that made me see a character so clearly)
4 ½ stars TOP PICK from Romantic Times
2006 ROMANTIC INTRIGUE Award Winner Romantic Times
"Janzen is a major gift to the romantic suspense genre!"  Jill Smith for Romantic Times
"While keeping the tension and thrills high, Janzen excels at building rich characters whose lives readers are deeply vested in.  Let's hope she keeps'em coming!" Romantic Times
Denver, Colorado - Two weeks later
She didn't look like bait.
From where he sat in a comfortably upholstered chair, reading the newspaper, Creed watched the woman limping across the third floor of the Denver Public Library. It was her fourth trip from the reference section over to the copy machine. Each time, she made a couple of copies and returned to the reference desk. Each time, her mousy brown hair had come a little more undone from the scraggly bun at the top of her head, until the whole thing had completely given up and reverted back to a raggedy-edged ponytail - except the pencils that had been holding the bun were still stuck in the pony band.
And so he repeated to himself: She did not look like bait.
What she looked like was a scatter-brained librarian with pencils coming out of her head.
Carefully stretching out his left leg, Creed eased the pain in his hip, then rolled his shoulder. Sitting for long periods stiffened him up, and the library didn't close for another hour. Hell, he'd probably be half paralyzed by then, and that was about the way things had been going for him lately. He didn't know which was harder on him, the running around he'd done in South America, or the sitting around he'd been doing since he'd come home, sifting through a lot of intelligence reports that never seemed to pan out and waiting for a Czech national with a Soviet missile to stick her nose out somewhere.
Well, if today's intel from the State Department was good, she'd finally done it - here, in Denver, in the public library.
Kee-rist, he stretched again when a sharp pain cramped his calf. His body was a friggin' train wreck.
Reaching into one of the pockets on his cargo pants, he pulled out a couple packages of ibuprofen tablets and figured four ought to take the edge off.
The pencil lady was a little wrecked, too. She was wearing an ankle brace, and the strings were loose and trailing behind her, and her socks didn't match. One was definitely black, and the other could have been, but even if it was black, it was a different black than the other sock. The rest of her matched perfectly - painfully perfectly. Not only was her hair brown, but her eyes were brown. Her shoes were brown. The frames on her Coke bottle-thick glasses were brown. Her big ugly sweater, though a lighter shade, was brown; so was her thick wool skirt. It had also been rolled at her waist, giving it an uneven hemline. The combination of her uneven hairdo, uneven hem, and her uneven gait gave her the appearance of a floundering ship, a small, sort of skinny ship with a cargo of books in her arms - a ship lost at sea, being beaten by the waves, and no doubt about to be sunk by the force of the storm heading its way.
Bait, by its very definition, meant an allurement, an enticement.
Cordelia Kaplan was neither alluring or enticing.
But then, neither was she Cordelia Kaplan.
According to today's intel, the Denver Public Library's newest reference librarian was actually an illegal immigrant from the Czech Republic by the name of Dominika Starkova, the supposed moll of a former Soviet KGB colonel. She'd been the current belle du jour of the Prague club scene up until she'd skipped town and ended up in the good old U.S. of A., in Denver, Colorado, working at the library and looking like a fish wife.
Through his work with SDF, Creed had known a few Eastern bloc colonels and their very expensive girlfriends, and Cordelia Kaplan didn't fit the bill, not even close.
Dominika Starkova did, though, in spades. The photo Dylan had sent from Washington, D.C., the one he had in his coat pocket, had been taken in Prague six weeks ago, and the girl had rocked - all legs and breasts and silky blond hair, her ass barely covered by a little silver dress, her mouth lush and made for blowing a guy's mind, if a guy went for bad girls...very bad girls.
The little librarian didn't seem to have much going for her in the legs, breasts, and lush mouth category. What she had going was the brown category.
He returned his attention to the newspaper he wasn't quite reading. If there'd been a mistake, then the quicker Creed found it out, the better off the scatter-brained young woman would be, because the storm heading her way was real. It was Creed's job to keep Dominika Starkova from sinking like a stone when it hit, to make sure she didn't complete her mission or slip through the government's net and run back to the Czech Republic. The fate of the free world depended on it - which unnerved the hell out of him, because he really wasn't up to the job. His track record on saving people's asses, let alone the whole freakin' free world, was pretty grim this year.
He lifted his gaze back up over the edge of the newspaper to the librarian. If she was Dominika Starkova, she'd come a helluva long way to sell a Soviet nuclear warhead. Of course, there wasn't a terrorist leader from Fallujah to Islamabad who wouldn't be happy to make the trip halfway around the world to Denver to buy it. As best as the alphabet soup of U.S. government intelligence agencies had yet determined, the missile had disappeared from a military base near Tbilisi in the Republic of Georgia during the dissolution of the U.S.S.R and had never been accounted for by the Russians. Rumors had placed the warhead somewhere in the "Stans," a collective group of third-world countries carved out of the Russian frontier, but that was a helluva lot of territory. They needed better intel if they were going to find it. They needed the woman.
Blonde Bimbo with the Bomb - that's how she'd been described in one of the reports, the bait sent out by Sergei Patrushev, her ex-KGB colonel boyfriend, to soften up the clientele and keep them happy until all the players were in place and it was time to make the deal of the century. And it was the deal of the century that had gotten the attention of the United States government and its allies. They wanted the provocative Ms. Starkova stopped cold.
In the circles she usually traveled in, jetting from Moscow, to Prague, to Berlin, Denver was no more than a backwater, no less than an aberration, the last place on Earth anyone would have expected her to pop up, which, of course, made it perfect.
Because the odds were that it was Dominika Starkova making another trip to the copy machine, except she wasn't blonde, and the reference desk of the public library was not the usual haunt of bimbos - none that Creed had ever known, anyway, and it was a sad, but true fact that he'd gotten tangled up with a few over the years.
Cordelia Kaplan -- he watched as she made her copies and headed back toward the reference desk, limping along, the strings on her ankle brace trailing on the floor. Behind the hair hanging in her face and her big glasses, she had a small, unremarkable nose and a mouth to match, a somewhat narrow chin, and cheekbones high enough to qualify as almost interesting, if not exactly classic, all the parts seeming to work together into a blandly acceptable whole. What she lacked was any spark. Stand her in front of a shelf of books, and she'd blend in to the point of disappearing, pencils and all - which made her damned suspicious looking as far as he was concerned. Camouflage of that caliber was an art, not an accident.
Halfway back to the desk, she stopped, her already colorless face paling even more before she suddenly changed direction and made a beeline into the nonfiction stacks.
Her hesitation lasted no more than a second, but it was enough to bring Creed awkwardly to his feet. Yeah, he was a real smooth operator all right. Ignoring the twinge in his hip, he casually folded his newspaper and cast a sideways glance toward the reference section. A man stood at the desk, one who hadn't been there a few seconds ago. Tall and barrel-chested, he was built like a bull, a bald-headed bull in a black suit and a Fu Manchu, his long mustache flowing past his chin. He was leaning on the counter, showing the librarian a photograph.
Hell, Creed thought, as the librarian nodded at the picture and peeked around the big man, pointing toward the copy machines. The man pocketed the photo, checked his watch, and turned toward the copiers.
Creed grabbed his coat and moved toward the stacks. Glancing down one of the long aisles, he saw Cordelia Kaplan dart to the left, and he picked up his pace to cut her off. If the bull with the Fu Manchu wanted the skinny librarian, he was going to have to get through Creed first - and it took more than one guy to get through Creed Rivera, even a busted up Creed Rivera.
In that respect, he knew his looks were damned deceiving - which suited him just fine.
Slipping into his long, dark coat, he made the left turn just in time to see a blur of brown make a sharp right into the 900's, heading toward the stairwell door. Ms. Kaplan was running like a rabbit and seemed to have left her limp back in the 800's.
She left her sweater in the 920's.
He found her skirt balled up and shoved on top of the books in the 940's. Her glasses and her raggedy ponytail were in the 955's.
Shit.
He broke into an out-and-out run.
There weren't many people in the nonfiction stacks late on a frigid January night with a blizzard blowing outside, but he came across five - exactly five, only five: a tall, thin man in a gray coat reaching toward a top shelf; a dark-haired kid sitting on the floor while his grandmother searched the 975's, a librarian he'd seen re-shelving books earlier, and someone he hadn't seen before - a woman with short, spiky red hair in a slinky black sweater dress and black boots walking past the stairwell door.
Geezus. She was good.
She passed the stairwell door and headed back toward the escalators in the middle of the library, probably feeling pretty secure in her new disguise, all of which could easily have been hidden under her other outfit and the brown ponytail wig. She could have stashed the boots in the library anytime. Still, she was one of the quickest quick-change artists he'd ever seen. Real quick, he thought, following her at a more sedate pace.
Maybe too damn quick.
He stopped when the woman did and watched her slide a book off the shelf. As if feeling his gaze, she turned and lifted her eyes to meet his - and he knew he'd been screwed.
It wasn't Cordelia Kaplan, or Dominika Starkova, or whatever she wanted to call herself. The face was all wrong, too long, the skin tone too olive, her eyes too far apart. Everything about the woman's face was the wrong shape.
Damn. He turned back around and quickly retraced his route. The librarian was still re-shelving books in the 980's, but the grandmother was alone in her aisle. The "boy" was gone, the damned dark-haired boy, and so was the brown sweater that had been stashed in the 920's.
Son of a bitch, she was good.
He started cross-sectioning the nonfiction section, trying to catch sight of her, but the only other person he ran into was the bald man with the Fu Manchu, and he did it deliberately.
"'Scuse me," he mumbled, brushing by the man in the stacks.
Five fruitless minutes of searching later, he got in the elevator going down and pulled the photograph he'd lifted off the man out of his pocket.
It looked like a school picture, and compared to the one General Grant had sent him, it was definitely more Cordelia Kaplan than platinum-haired Dominika Starkova. She was about seventeen in the photo, dressed in a school uniform, her long dark hair pulled back on one side and clipped up. She looked ridiculously young, oddly sweet, and too innocent to have ever ended up with a man old enough to be her father, or in the middle of an illegal international arms deal of world altering proportions.
Baldy was a different story. Creed quickly looked through the guy's wallet. Bruno Walmann was his name, computer parts were his game, with offices in Berlin, Moscow, and New York City. At least that's what his business card said - in German. He had fifteen hundred dollars in cash, half a dozen platinum and gold credit cards, a drivers license, a couple of restaurant receipts, and a few scraps of paper with phone numbers and addresses written on them - all good stuff, but not what Creed had come for tonight. He shoved the wallet into his coat pocket. It would all go to SDF, the organization that wrote his paychecks and assigned him jobs like the one he'd just screwed up.
Damn. He'd lost Dominika Starkova, which frankly, unnerved the hell out of him. He'd never lost anyone he was tailing, not ever.
Shit. He'd promised himself a break, that all he had to do was get Castano and Garcia and his part would be over for a while. Someone else could take over making the world safe for freedom, democracy, and a latte stand on every corner. Cars, that's all he wanted now - to work on his cars and forget how fucking brutal real life could be, to forget how fucking brutal he could be.
Geezus, with the fate of the free world hanging in the balance, he couldn't even stick a tail. But at least he could report that the spooks and the pencil pushers in Washington had finally gotten something right. Cordelia Kaplan was no librarian.
Turning away from the information desk, he glanced at the exits on either end of the atrium that spanned the library. There was a pumped up, flat-faced, gorilla-looking guy in a leather bomber jacket loitering in front of the west doors, looking very much like a hired gun. On the eastern end, another man stood in the center of the hall, not loitering, but out and out commandeering the exit onto Broadway Avenue, checking his watch and looking like he was hell and gone out of time and none too happy about it. His other hand was stuffed into the pocket of a very expensive, gray wool top coat, his black hair combed back off a hard, carved face, everything about him speaking of money and power.
Creed swore under his breath. Dylan had sent him this guy's picture, too, Reinhard Klein, one of the nuclear warhead buyers identified by the CIA. If Bruno was working for Klein, he was working pretty high up the ladder. Reinhard Klein owned and ran an international conglomerate that included everything from the controlling interest in an oil refinery in Azerbaijan, a fashion house in Milan, a string of hotels from Bern to Berlin, a lot of pricey real estate in the Czech Republic, and not a damned thing in Denver, Colorado.
Suddenly, things were getting complicated. Why would Dominika Starkova be hiding from one of her buyers, a guy she was supposed to be bringing in on the big deal? And why was Reinhard out in a blizzard, instead of holed up in a plush, downtown hotel, waiting for Bruno to buck the cold and bring him the girl?
The whole set-up smacked a little too much of desperation to do anything but put Creed even more on edge.
Shit. The frickin' fate of the free world was always hanging in the balance. Always, and God knew he'd done his part to save it at least twenty times in the last ten years. But the price for saving the free world had gotten too damn high, costing him more than he was willing to pay ever again.
Ever.
He'd left his blood and sweat on all seven continents for Uncle Sam, and unknown to anyone but himself, he'd left a bucketful of gut-wrenched tears on one - for all the good it had done him or his partner, J.T.
His best friend, J.T., who was dead.
Well, hell - he dragged in a deep breath - that was a place he definitely wasn't going to go tonight.
He scanned the library again, wondering whether or not Dominika Starkova had already gotten out, when she suddenly came into view - a dark-haired "boy" wearing an ugly brown sweater and a nondescript gray coat, riding down the escalator with her nose stuck in a book.
Hell, the escalator was going to dump her right at Reinhard's feet. He started across the lobby, determined to get to her first.
#
Casting a quick glance up from underneath her lashes, Cordelia "Cody" Kaplan saw and instantly recognized Reinhard Klein. She swore under her breath, her already racing heart taking a quantum leap into overdrive.
Relax. Relax. Relax, damn it, she told herself, trying to ignore the sudden sick feeling churning to life in her stomach. Stay cool. Don't give in to panic. The moment she'd seen Bruno the Bull, she'd known Reinhard would be somewhere in the library, waiting for her. Bruno was Reinhard's favorite dog, and the two were never very far apart.
So suck it up and tough it out. All she had to do was act natural, make no odd movements or show any interest in anything other than her book and slip into the fiction stacks as quickly as possible. She could make her escape through the service entrance on the north side of the building. Chances were Reinhard wouldn't recognize the scruffy kid on the escalator as Sergei Patrushev's club princess from Prague.
It would be a helluva stretch for anyone. Really. She knew what she looked like, and she did not look anything like Dominika Starkova. Not tonight.
Not ever again - so help her God.
Chances were she'd get out of this mess alive.
She swore again, silently, not inclined to self-delusion. She was in up to her neck, and the chances of her getting out of her current mess in one piece were slim and getting frighteningly slimmer. How in the world had they found her? Denver, Colorado was nowhere, and she was clean as Cordelia Kaplan, perfectly clean, an All-American girl living an All-American life on a set of perfectly forged papers.
An All-American girl who was running out of places to hide.
A little cover might have helped, but the snow storm outside had kept people away from the library. The place was practically deserted, which left her alone to run the Reinhard gauntlet.
Her stomach clenched at the thought.
They'd danced together one night in Prague, at a club called Radost FX, and she'd turned down his offer of a more intimate association. But Reinhard Klein was used to getting what he wanted.
The warehouse in Karlovy Vary. A trickle of fear ran down her spine. Out of the corner of her eye, she saw his gaze shift. Suddenly, he was looking right at her...but he wasn't seeing who he was looking for, not yet.
She considered running back up the escalator, but discarded the idea as too risky. It would only draw attention to her, and she figured she had a better than fifty-fifty chance of cruising by Reinhard as an ill-kempt boy.
God, even one other person in the main hall would have been helpful. Someone, anyone, to draw attention away from her, even if only for a couple of seconds.
In the next moment, she got her wish, but in the worst possible way. A noisy commotion above her drew her head around and made her blanch. Bruno had boarded the escalator and was pounding his way down the moving stairs behind her.
The natural reaction would be to get out of the big man's way, but for the space of a heartbeat she was frozen, the last of the stairs slipping out from under her and Bruno bearing down on her.
"Hey, kid," someone said at the bottom of the escalator, the voice casual and friendly, low-pitched.
She jerked her head around, the stairs came to an end, and a large hand came down on her shoulder, making sure she didn't fall.
Oh, God, her breath stopped. She'd been caught by - of all people - the angel-faced, surfer god from the third floor, the one who'd been reading newspapers all evening.
"Hey, watch it, buddy," he said as Bruno pushed by them, heading toward the main doors where Reinhard was waiting, his face a mask of cold anger.
"Geez." The surfer guy turned back to her, meeting her gaze. Then he smiled, a blindingly white grin that flashed across his face and lit up the whole atrium. "Where've you been, huh? I've been looking all over for you," he said, guiding her away from the escalator, his body loose and angled between her and Reinhard, every move he made as smooth as silk, so natural that for a micro-instant even she believed she knew him. "Come on. I just need one more book, and then we can get out of here."
Damn, damn, damn. Her mind was spinning. Who was this guy? No one from Eastern Europe. She wouldn't have forgotten him. She wouldn't have forgotten anyone who looked like him. He sounded American. He looked American, pure California beach boy, and when she'd seen him in the reading room she hadn't for a moment considered him a player. He'd been too noticeable with his sun-streaked hair falling to his shoulders, his face pretty enough for magazine fashion ads, and wearing clothes that looked like they came straight out of those ads - casual, but very expensive cargo pants and hiking boots, and a fisherman's sweater, all in black. He'd been impossible to miss, and because of it, she'd dismissed him, completely, wholly put him out of her mind, and now he'd caught her - whoever the hell he was.
Cursing herself as a fool, she fell in beside him, because with Bruno the Bull and Reinhard Klein not twenty feet away, there wasn't a damned thing else she could do, not for the next few seconds. Her only consolation was that out of all the men, the California surf angel had to be the least dangerous of the three.
She knew what Bruno and Reinhard were capable of doing. She knew how coldly brutal they could be.
Oh, yeah. The pretty slacker dude saggin' in the
designer clothes was easily the least dangerous of the three.
Easily.