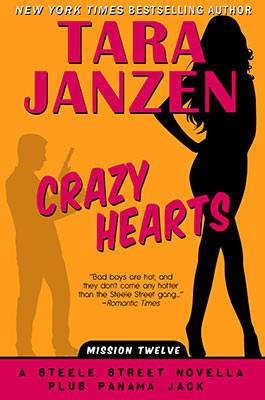 Crazy Hearts
Steele Street, Book 12
ISBN: 979-8655184459
June 2020
DYLAN HART IS THE SPECIAL OPS BAD BOY WITH NO PAST.
THAT'S ABOUT TO CHANGE...
Dylan had shown up in Colorado as a teenager on the run for his life. He'd left his name behind, along with any record of his existence. He had no family, no friends, and no connection to anyone in the world except the men out to find him and kill him. And the last place in the world he thought they would ever look was Denver, Colorado.
He'd been right.
THE CHOP-SHOP BOYS OF STEELE STREET
Within weeks of his arrival, he'd been scooped up by a crew of juvenile car thieves, and together they became legends on the streets of the Mile High City. Years later, they are the legends known as Special Defense Force, SDF, an elite team of soldiers tasked by the United States government to protect the country from threats both near and far.
But you can never leave your past behind, and Dylan's day of reckoning has come. His long, lost past is headed straight at him at 100 miles per hour in a Porsche Cayman 718, and there isn't anybody who can stop it.