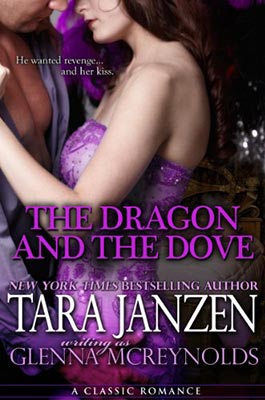 The Dragon and the Dove
E-Book Classic Romance
ASIN: B007FL9WL0
BN ID: 2940013931251 
February 2012
HE'S SEARCHING FOR A SHE-DEVIL PIRATE
A fierce warrior on a trail of revenge, bounty hunter Cooper Daniels will stop at nothing to find the pirate who killed his brother.  The embodiment of evil, Fang Baolian, rides her ghost ship across the South China Sea, plundering and murdering at will.  To stop her, Cooper needs more than firepower.  He's looking for a highly educated shark with an instinct for the jugular to find a weakness in the pirate queen's financial holdings – and the most renowned headhunter in San Francisco sends him an angelfish in silk with a freshly minted MBA.
FROM THE HIGH SEAS TO THE DANGERS OF CHINATOWN
Wild adventure, underground labyrinths, and bona fide bounty hunters are the last thing Jessica Langston expects in her new job at Daniels, Ltd. – but she gets them in spades, along with the most fascinating man she's ever met.  Cooper sets her senses on fire, and sets off all her warning bells.  She knows better than to take on his kind of trouble, and yet she can't resist the sensual thrill of his touch or his searing kisses.
THE ADVENTURE OF LOVE IS ONE WILD RIDE
The auburn-haired angel offers Cooper the heated ecstasy of being in her arms and a chance at redemption.  But is the sizzling passion they share enough to heal his haunted soul?
THE DRAGON AND THE DOVE originally published by Bantam Loveswept 1994