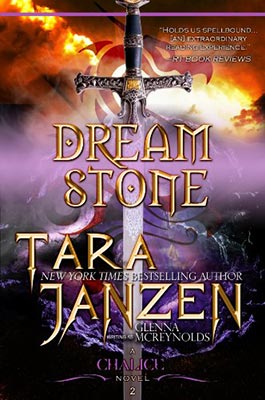 Dream Stone
Chalice Triology Book #2
August 2012
The cataclysmic battle for Carn Merioneth has returned Mychael ab Arawn to the castle of his birth and freed the pryf, the spawn of dragons, into the caves that lie beneath the fortress walls. But treachery and danger abound in the land, forcing Mychael to forsake his monk's vows in an ever more desperate search for the great and fiery beasts of his most haunting vision – Ddrei Goch and Ddrei Glas, the Red Dragon and the Green Dragon, guardians of the Gates of Time.
Beset on all sides by those who would usurp his rule and use Mychael's prophesied power for their own purpose, only one of the Quicken-tree dares to follow the mysterious young warrior on his chosen path into deepest danger, Llynya, an elfin sprite with a brave heart and a lightning-fast blade. When long-vanquished enemies return and monstrous forces are gathered on their borders, an ancient priestess will set Mychael and Llynya to the deadly task of their fate. They must call forth the dragons and face an unimaginable evil that threatens to sweep them all into a timeless vortex without end.
But even as he brings the great and mighty dragons to heel, Mychael knows the cost of battle will be dear, and the price he must pay for victory will change him forever.
"Holds us spellbound...[an] extraordinary reading experience." RT Book Reviews