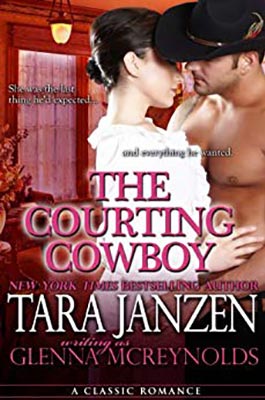 The Courting Cowboy
E-Book Classic Romance
ASIN: B0079V5Z1C
BN ID: 2940013946095 
February 2012
SHE WAS THE LAST THING HE'D EXPECTED...
Ty Garret's been hearing a lot about his son's new teacher, an owlish widow lady with glasses, but nothing he's heard prepares him for Victoria Willoughby, the Oxford-educated peer of the realm who has washed up in Talbot, Colorado.  Skin softer than sin, wild auburn curls, and a very kissable mouth all conspire to rivet his attention, but it's her sensual innocence and her captivating spirit that capture his heart.
AND EVERYTHING HE WANTED.
Victoria has been everywhere, from China to Chad, Egypt to Ecuador, living a life of highbrow intellectualism, noble wealth, adventurous travel, and stolid, unwavering propriety.  Now she's on her own in the middle of nowhere, free for the first time, and discovering the one thing she's never had – the love and passion of the right man, a tantalizing male of the subspecies Western americanus cowboyius.  But when her old life beckons, will the woman who's been everywhere choose love in a cowboy's arms?
COURTING COWBOY originally published by Bantam Loveswept 1993